News
All Categories

X

Search by date

X

Search by tag

X
BRUNO SENNA Re-Volt Edition Limitée
Toujours en quête de sensations fortes et de performances, Rebellion Timepieces propose en édition limitée son modèle RE-Volt aux couleurs de Bruno Senna. Pilote du team Rebellion Racing depuis 2017, le champion est aussi ambassadeur de Rebellion Timepieces.
Neveu du légendaire Ayrton Senna, le pilote automobile Bruno Senna s'est distingué au volant d'une Rebellion R13 durant les 24 Heures du Mans 2018 et 2019 mais aussi pendant toute la dernière saison LMP1 qu'il a ponctuée avec une brillante victoire aux 4 Heures de Shanghai en novembre dernier. Pour célébrer le panache du champion, Rebellion Timepieces lui consacre une série limitée éditée à 20 exemplaires seulement. Plongez alors dans un univers mécanique sans compromis !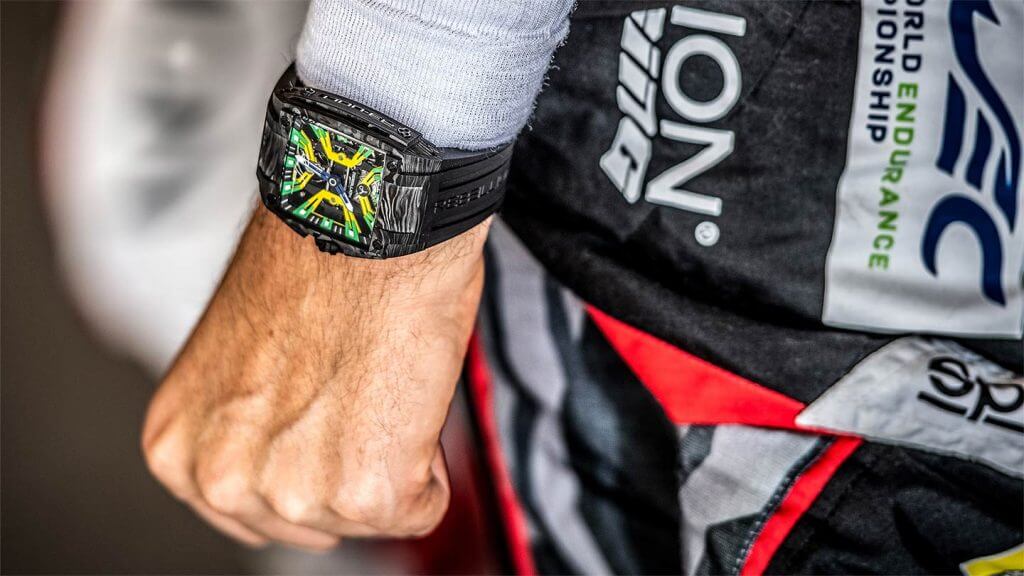 Silhouette musclée, nature high-tech et performances exceptionnelles font de la Rebellion RE-Volt Carbon Forged Bruno Senna une montre remarquable sur laquelle chaque détail exprime et incarne la passion de la marque pour le sport automobile. Le champion s'est impliqué et a participé au développement de ce gardetemps taillé pour l'exploit.
Sur la Rebellion RE-Volt Carbon Forged Bruno Senna, l'essentiel s'affiche au poignet. Son calibre squeletté porte haut les couleurs du Brésil natal du coureur. Les index en vert se distinguent du jaune qui habille les ponts. Cette architecture technique est survolée par un binôme d'aiguilles des heures et des minutes teintées de bleu et recouvertes de matière luminescente. Tout en légèreté, Rebellion Timepieces signe une composition au design d'une grande pureté et d'une grande lisibilité.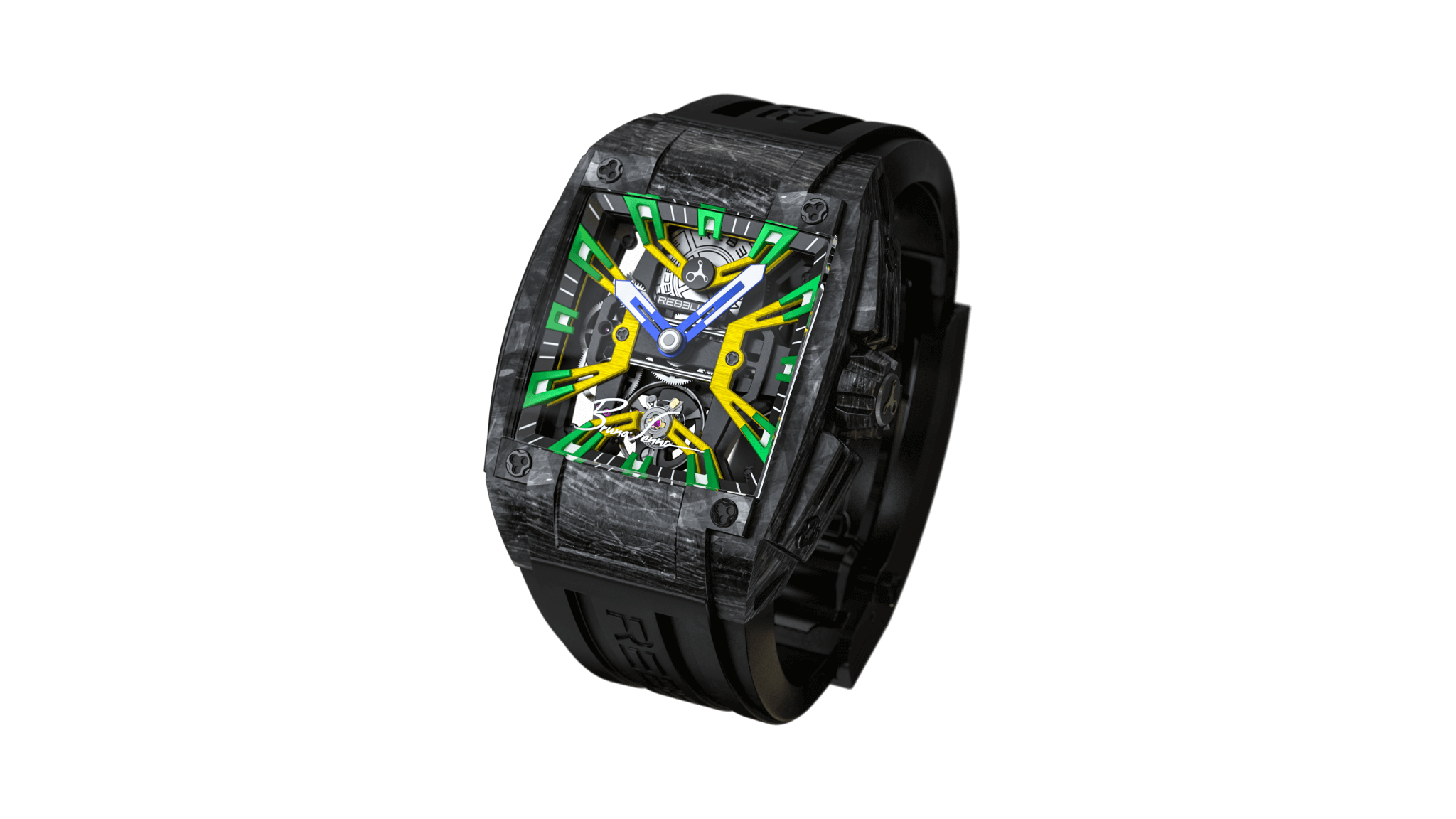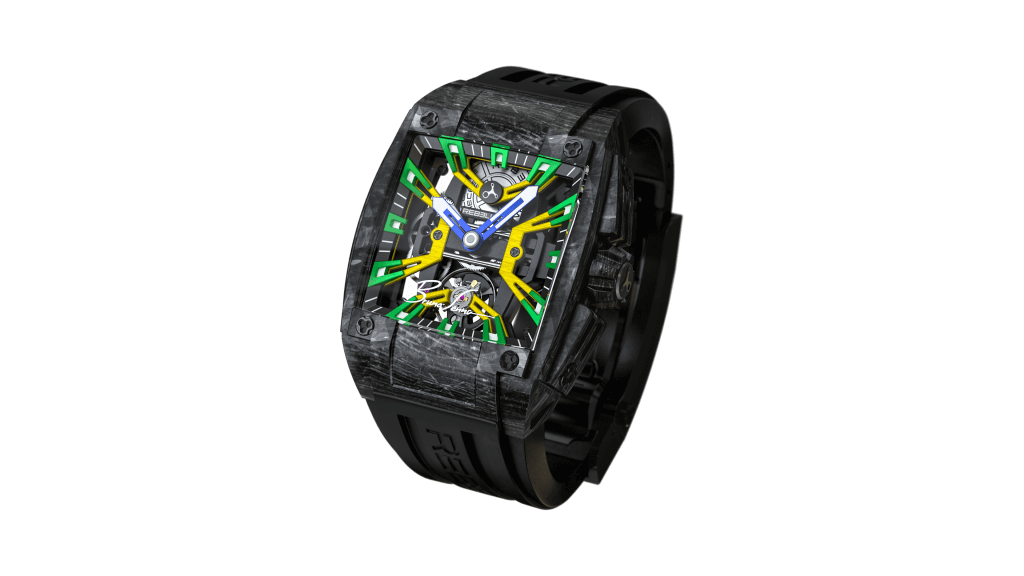 The Rebellion RE-Volt Carbon Forged Bruno Senna presents the pilot's signature at 6 o'clock on its sapphire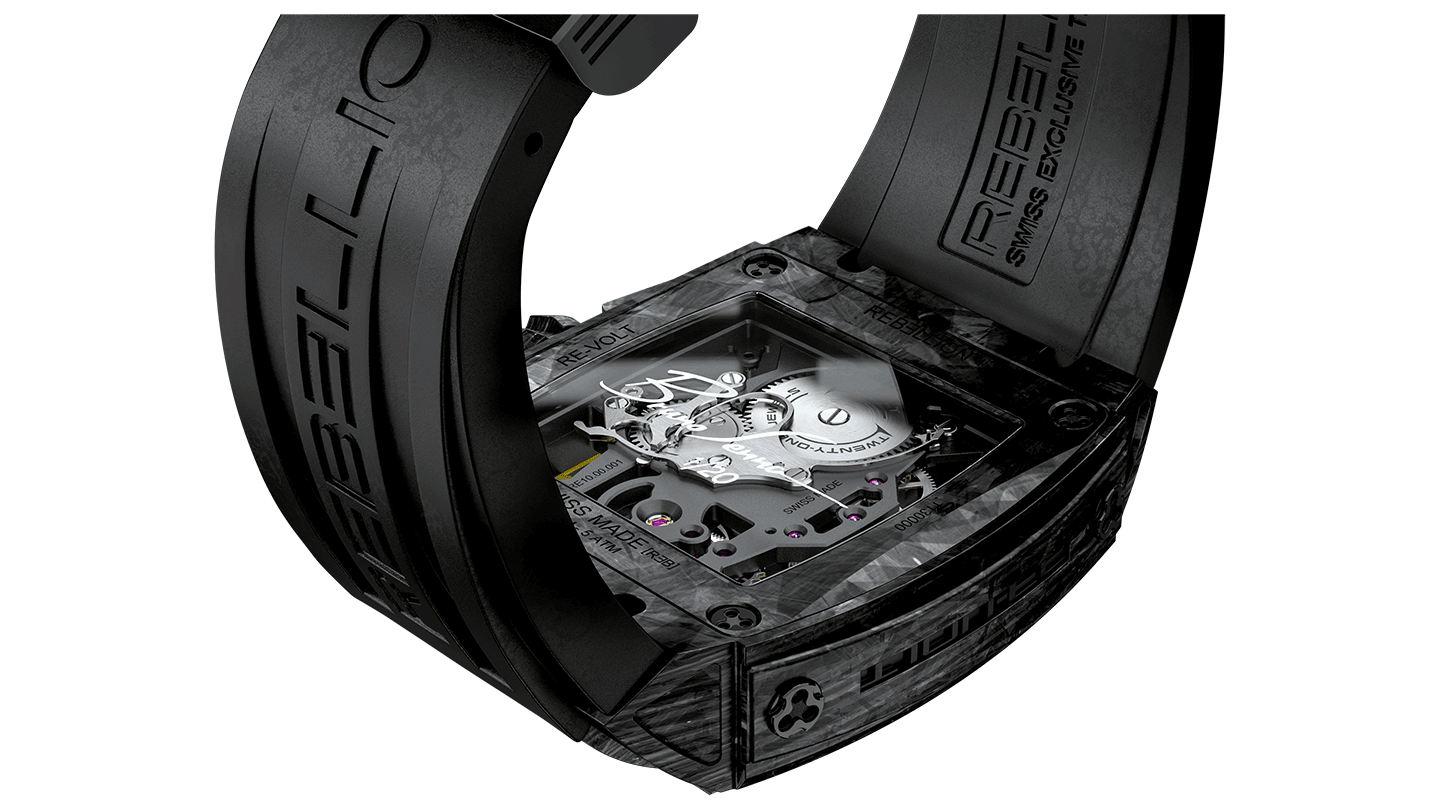 L'édition limitée de la Rebellion RE-Volt Carbon Forged Bruno Senna s'accompagne d'un bracelet aussi robuste que confortable confectionné en caoutchouc vulcanisé noir et terminé par une boucle déployante. Le coffret dispose d'un second bracelet de couleur jaune aisément interchangeable.
Les modèles de la collection RE-Volt se déclinent en de nombreux matériaux techniques : titane, titane DLC, carbone forgé et or rose 5N. Sur la carrure du boîtier, une plaquette personnalisable peut arborer le texte de votre choix. Une large palette de couleurs de bracelet est disponible : noir, marron, gris, rouge, bleu, jaune, vert, mauve, blanc, orange. Celui-ci peut en option recevoir une quadruple boucle déployante brevetée pour un ajustement millimétrique et pour un confort au porté maximal et sécurisé.