News
All Categories

X

Search by date

X

Search by tag

X
REBELLION GRABS THE SPOTLIGHT WITH SHIMMERING SAPPHIR
At the Espace Fert-Barton, a sapphire case and … a spirit of competition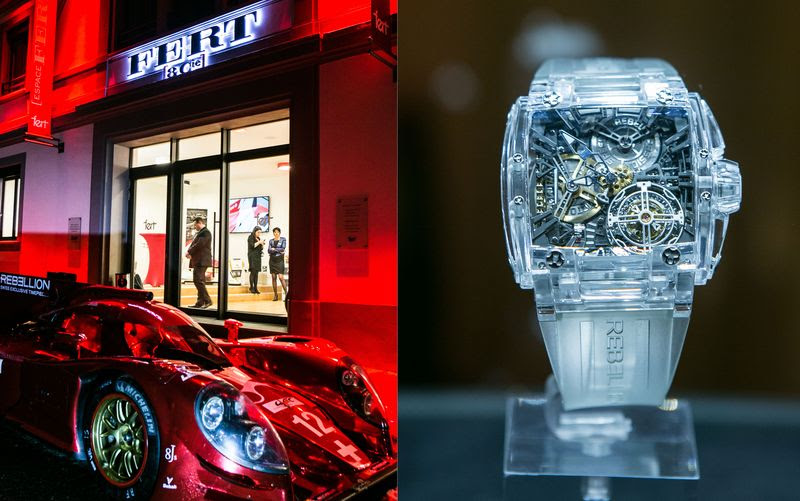 The independent Swiss watch brand REBELLION invited its fans, special friends, customers and the media to a venue full of surprises just off Lake Geneva, and right opposite the city's hallmark water spout, the Jet d'Eau. The Espace Barton is spacious and convivial. It was the ideal place for the media reception of a world première, the MAGNUM 540 Tourbillon, a watch that displays the true magic of some phenomenal transparency. Its rectangular case was already known for being a very complex piece that expressed deeply-rooted REBELLION values:  endurance and automotive prowess. Now the brand produced a modular design in eight parts carved entirely out of sapphire.
This most insane sapphire timepiece ever was born following a period of labor that included 47,600 minutes of diamond-tip machining, with no compromises allowed and many a tool sacrificed on the altar of perfection. This superlative timepiece was comfortably settled at the heart of the event, a veritable show-stopper, and fascinated connoisseurs as well as those with a deep sense of esthetics. This technical challenge had been met by David Candaux, who was present and harvested a storm of hyperbolic praise.
The leadership team, headed by Calim Bouhada and Philippe Dubois, CEO of REBELLION Timepieces, was present as well and used the occasion and the congenial atmosphere generated by a shared passion to unveil the mainstays of the brand's other collections. They also underscored the highlights of the 2016 program, which will be reinforcing REBELLION's connection to the world of motor sports. REBELLION,  after all, is the only Swiss watch brand to actually have its own automotive stable, REBELLION Racing. And now the brand announced a partnership with IMG Motorsport, a London-based company that has chosen REBELLION as the official timing partner for the FIA World Rallycross Championship. This will give the brand great visibility and will be an opportunity to offer its partners and the victorious drivers a limited edition RX RALLYCROSS watch.
During this crucial week for business, one of the brand's race cars sat in front of the well-lit entrance to this private party, drawing lots of attention, as if to signal the start of the FIA WEC 1 – 24 Heures du Mans championship. Meanwhile, inside the Espace Fert-Barton, some of the REBELLION Racing pilots, notably Nicolas Prost, Mathias Beche et Mathéo Tuscher were taking the guests on a party spin…  all the way to through the final stretch to dawn.