News
All Categories

X

Search by date

X

Search by tag

X
REBELLION Racing launches their 2015 racing season at Le Mans with their new R-One AER LMP-1 contender
The leading FIA WEC Privateer team REBELLION Racing is back to business. After a decision deep into the off season to change their engine supplier, the Swiss team will debut in front of the fans and media two new 2015 Rebellion R-One AER LMP-1 cars during the 24 Hours of Le Mans Test Day on Sunday 31st of May.
For 2015, REBELLION Racing's Rebellion R-One LMP-1 cars are powered by AER P60 V6 GDI twin-turbocharged engines from Advanced Engine Research based in Basildon, Essex, UK.
REBELLION Racing and their chassis partner ORECA have worked around the clock to develop a revised and upgraded version of the Rebellion R-One with the AER V6 twin-turbo engine fitted. It took only fifteen weeks to achieve such a tough mission between the date the decision was made and the first car shakedown. The team wants to thank Oreca, their staff and suppliers for their hard work during that period. And there is still a lot to do with the Le Mans 24 Hours race coming in only two weeks.
The team conducted a positive three day test at Paul Ricard before heading to Le Mans. Both cars covered significant mileage and all of the team's six drivers took their turns behind the wheel of the new cars. New additions to the Swiss team Alexandre Imperatori and Daniel Abt completed their first laps in a closed cockpit LMP1 prototype and regular team drivers Mathias Beche, Nick Heidfeld, Nicolas Prost and Dominik Kraihamer were involved in the development of the new R-One AER due to their background with the R-One Toyota from 2014.
Now everyone at REBELLION Racing is focused on Sunday's Test Day and the major racing event of the year. Despite a short preparation, the Swiss team is determined to achieve the best result after the 24 hour race and score maximum points in the FIA LMP1 Teams Trophy.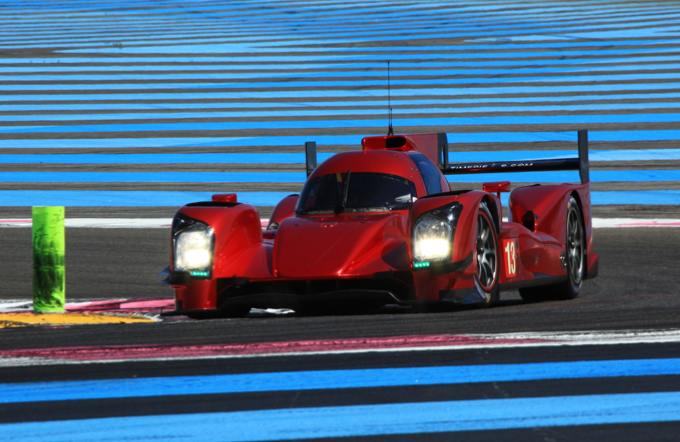 Mathias Beche – #12 R-One AER : "The installation of the new AER engine and the excellent work of the team during the last months already shows positive results. Whilst we know it's hard to gain some tenths of a second as a private team, I think we can say that we have made a big step. Reliability remains to be demonstrated and we are certainly short in our preparations, with only three days of testing. But we proved last year that we could achieve a very good result at Le Mans 24 Hours with a new and fresh car. Our motivation and attitude hopefully will allow us to go after this difficult race !"
Nicolas Prost – #12 R-One AER : "After the first test at Paul Ricard we are very happy with the performance of the new package. There is a lot of work to do on the setup and the new systems, but if we get some good running I'm sure we can quickly get a decent level of performance. The test day is going to be a very important step in our preparation for the 24 hours."
Nick Heidfeld – #12 R-One AER : "I am very much looking forward to the test. It is really going to be a test for us, more than for most of the others. We haven't done any races with this chassis/engine package yet and have only had a test in Le Castellet last week. I did a few laps in the car and hope it will run as problem free with the new engine and gear-box again. This weekend is only a test, but it will be the first time we face our competition, so we are all very excited."
Dominik Kraihamer – #13 R-One AER : "I really can't wait to get back in the car, especially on a track like Le Mans ! As we had the delay with the change of engine and couldn't do much testing until now,  it will be very hard work to get the car ready for the 24 Hour race in two weeks time. Our schedule is very tight, we can't afford any mistakes,  but I know how hard this team worked in the past and we all will do everything to start with the best possible base. In those test laps last week I could see a lot of potential in engine power and drivability of our R-One, this makes me very confident to successfully complete this important test day on Sunday.
Additionally, I see it as my duty to also help my new team mates Daniel Abt and Alexandre Imperatori getting used to the R-One LMP1 car, which can be quite tricky on this famous, but demanding race track."
Alexandre Imperatori – #13 R-One AER : "I can hardly wait to get to Le Mans, which is always a fantastic and unique place to drive at. It will mark the beginning of our season and it has been a long break since Brazil ! We will be playing catch up and have a lot of work on our plate before we can feel ready, but if the early indications from our testing at Paul Ricard are anything to go by, the package should be competitive. The team has done an incredible job in the last few weeks to be ready for the big race of the year, so a big thank you to them. On a personal note, it will be for sure a special feeling to officially turn my first laps as a Rebellion driver !"
Daniel Abt – #13 R-One AER : "After getting my first impressions of working with the team and the car I'm very excited to finally get to Le Mans. I've never driven on this iconic circuit, so there will be a lot of new things for me to learn but I'm sure the team will do their best to make sure I'm well prepared before we race in Le Mans. I will just focus on building my confidence on track and provide the team with good feedback to get the best out of our first test day in Le Mans."
Bart Hayden – REBELLION Racing Team Manager : "After an incredible effort over the past few months and particularly the last couple of weeks, we are at Le Mans with two Rebellion R-One cars powered by AER P60 engines ready to run in the official Test.  We ran both cars last week gaining useful knowledge and data.  Those tests were successful, so we are heading in the right direction.  It's true that we would have liked some more time to get ready for Le Mans, but as that is not possible, we are working to make sure that we do the best job that we can in the time that we have.  The new cars should see a performance gain from last year, so we are looking forward to the Test to see what we have and to gain extra mileage and information ahead of the race. "