News
All Categories

X

Search by date

X

Search by tag

X
REBELLION RACING WINS FIFTH LMP1 PRIVATEER CHAMPIONSHIP
REBELLION Racing achieved another milestone at Fuji Speedway by winning their Fifth FIA WEC Endurance Trophy for LMP1 Teams, with two races of the season still to go.
REBELLION Racing has confirmed once again their supremacy in the LMP1 Privateer class. Since 2011 in the then International Le Mans Championship and from 2012 until today in the FIA World Endurance Championship, the Swiss team has been the best LMP1 private team at the end of each season. 2016 has seen the team achieve all of its objectives: first LMP1 Privateer at Le Mans 24 Hours and first LMP1 privateer in the FIA WEC.
REBELLION Racing is really pleased to offer such a great achievement to our main partners REBELLION Timepieces and LEMO Connectors.
All through the season, drivers Alexandre Imperatori, Dominik Kraihamer, Mathéo Tuscher, Nicolas Prost, Nick Heidfeld, Nelson Piquet Jr and Mathias Beche have collected important wins and precious points through quick and reliable driving within a remarkable team spirit.
The engineers and the mechanics have worked really hard since the Winter and at the highest level all season long to achieve this result.
REBELLION Racing Team extends its thanks to our engine supplier Advanced Engine Research (AER) and our tyre supplier Dunlop, who have always provided their best to get the Rebellion R-One cars reliable and fast.
Dominik Kraihamer, Mathéo Tuscher and Alexandre Imperatori won their sixth race of the season today. REBELLION Racing's #13 Rebellion R-One led the LMP1 Privateer race in the 6 Hours of Fuji from the start to the chequered flag, but in the early stages of the race the battle with the #4 ByKolles car was very close.  With the retirement of the #7 Audi after 36 laps, the #13 Rebellion R-One took and held on strongly to sixth place overall until the end of the race.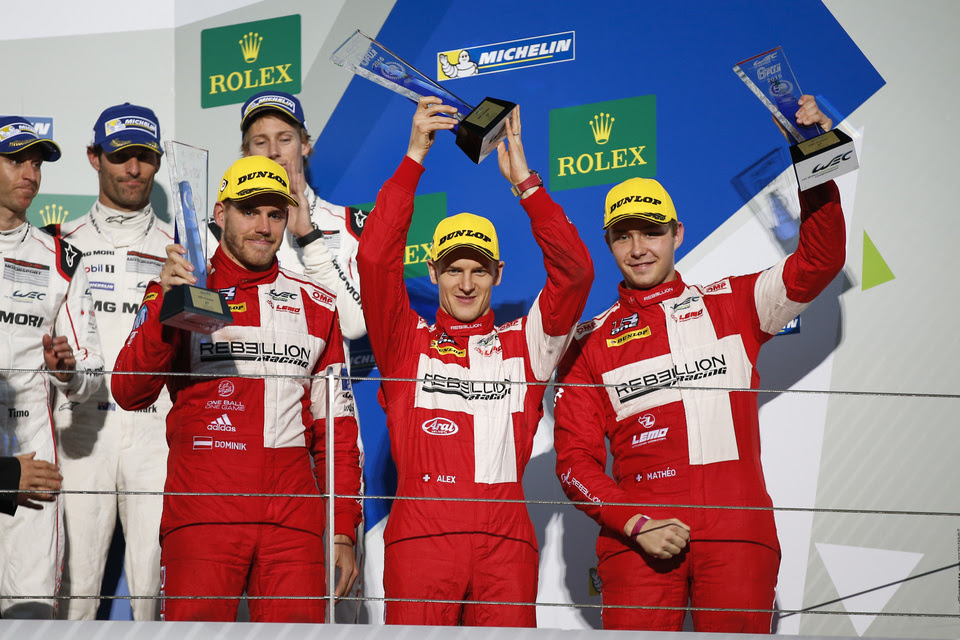 In winning the 6 Hours of Fuji, Alexandre Imperatori, Dominik Kraihamer and Mathéo Tuscher have secured the 2016 LMP1 Privateer Drivers' Trophy.
With today's win at 6 Hours of Fuji, REBELLION Racing extended their winning streak to ten wins in a row across the 2015 and 2016 FIA WEC seasons.
Dominik Kraihamer – Rebellion R-One #13 : "It's a great result for us, the race win and the Championship win. I want to thank my team-mates and all the team for the incredible job they've done all year. The start of the race was hot with Pierre Kaffer, in the first lap he was aggressive at turn 1 and we had light contact and then he pushed me at turn 10. I passed him in the next lap and from that point I built a strong lead over him. My team-mates increased the gap and later in the race the #4 ByKolles was forced to retire."
Mathéo Tuscher – Rebellion R-One #13 : " I am really happy to win the LMP1 Privateer Drivers' Trophy for my first full FIA WEC season with REBELLION Racing and to have been involved in the win of the LMP1 Privateer Team Trophy. We had a smooth race today, everything went well from start to finish. Thanks to all the team who have done an amazing job through all the season! I couldn't expect any better result than this one for a first year !"
Alexandre Imperatori – Rebellion R-One #13 : "The team has reached its goal today ! By finishing in sixth place overall, we achieved the maximum result we could expect in today's race. The team has done a great job all season and we are all rewarded by this Championship win. I'm very happy for the team and would like to thank them again for trusting car #13 in the second half of the season and my team-mates for another strong performance. Now we want to finish with a win in China and Bahrain."
Bart Hayden REBELLION Racing Team Manager : "We are absolutely delighted to have won our fifth consecutive FIA WEC Endurance Trophy For Private LMP1 Teams. Winning it has been our target this season alongside winning Le Mans 24 Hours LMP1 Privateer. We've won the right way with seven wins in seven races and with still two races to go.
This achievement is fully deserved by each and every member of the REBELLION Racing team and our partners involved in the programme.
I would like to thank our major partners at REBELLION Timepieces and LEMO Connectors for their passion and support."