The Brand
What Lays Behind
Motorsport has a certain taste for adrenaline and performance – REBELLION's DNA! A passion that's now taking the brand to iconic latitudes.
A quest for performance & victory
REBELLION Timepieces is a unique player in the world of Swiss watchmaking. Passion, independence and a 'no-compromise' attitude sparked the company's inception and continue to guide its development each passing day. Nothing is left out, or left to chance, in this watchmakers' pursuit for extraordinary quality and performance. REBELLION Timepieces, with their bold design and limitedseries production, are designed for those who share the same ideals. Designed for the asserted individualists. The intense competitors. Those passionate about mechanical perfection.

Alexandre Pesci
President of REBELLION Corporation:
"Rebellion's mission is to utilize the most recent human expertize and machining power in racing to create innovative,cutting-edge movements and timepieces."
Rebellion combines the intensity of racing with the precision of watchmaking
Founded by an industrialist passionate about watchmaking, high technology and car racing, Rebellion Timepieces has condensed the best of these three worlds. No compromise on design – combining great complexity with unique personality. No compromise on materials – titanium, carbon, gold, steel-ceramic and sapphire – all pushed to their very limits. No compromise on cases and elements, produced on high precision five-axis CNC machinery. This unyielding and passionate pursuit for perfection wins every time: each Rebellion timepiece is a mechanical wonder that offers extraordinary performance.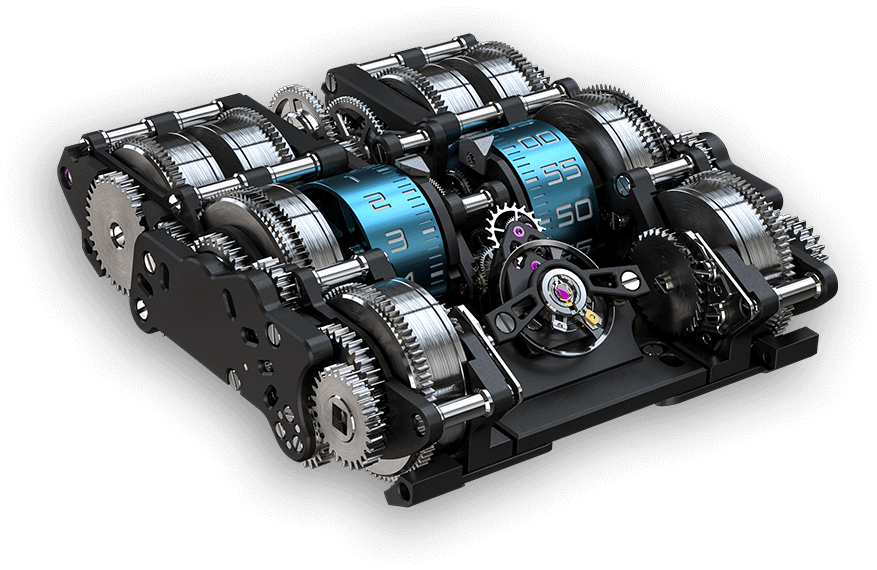 DESIGN

Absolute aesthetic and technical audacity

Engineering

Exceptional materials and processes

PRODUCTION

Technical excellence at the service of perfection

TESTING

Tested and proven outstanding performance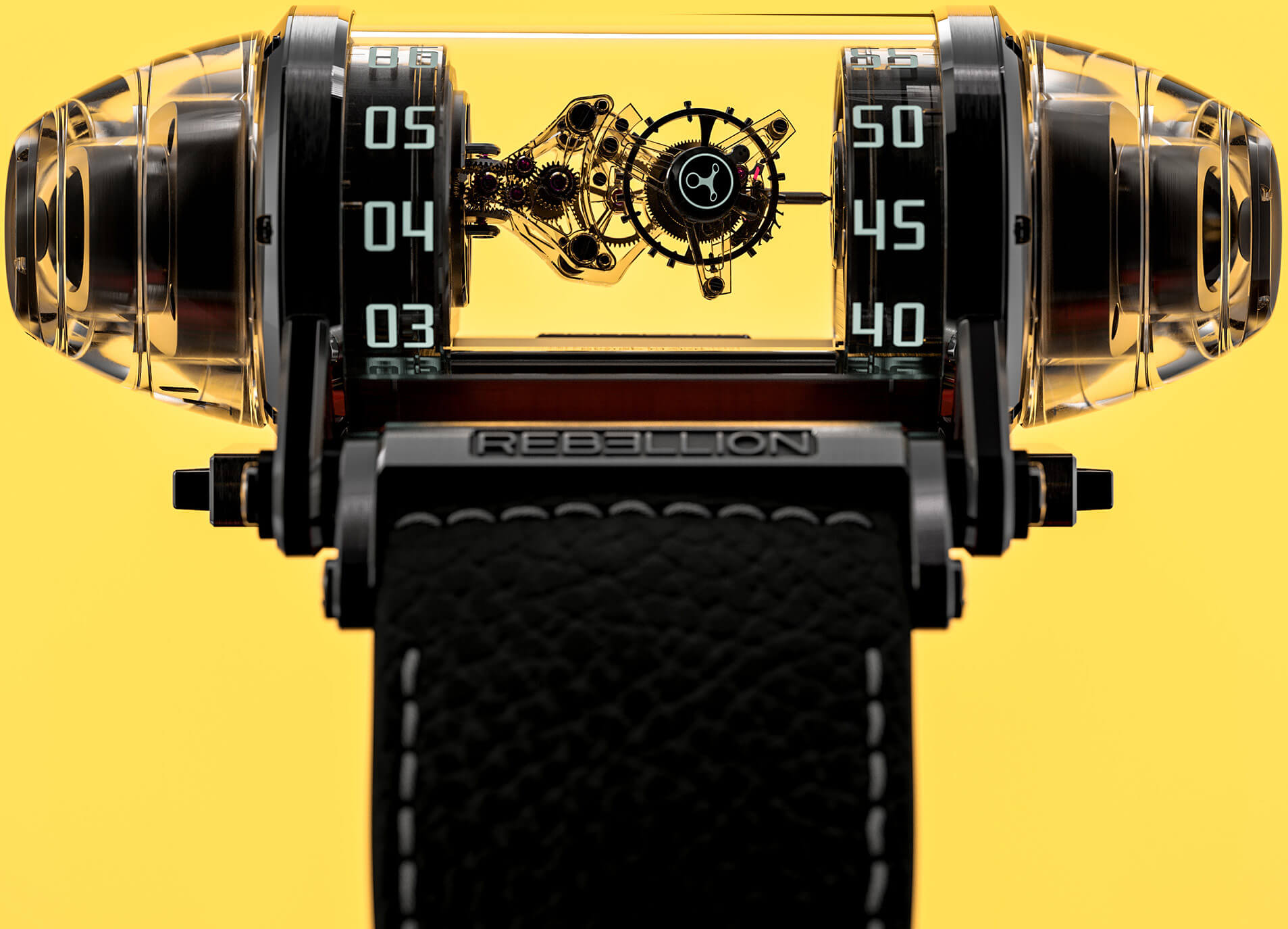 Twelve Years and Counting
2009

A TICK IN TIME

"The latest addition to the stable of new independent watchmakers is the Rebellion timepieces. The bold name says it all about the brand's philosophy. It is out to tear up the rule book and do it its own way. "

Leong Wong / Prestige

2010

REBELLIOUS DESIGN

"While eye-popping new designs are prevalent in quartz watches, it isn't often that you see something totally new in high-end mechanical watches. This brand takes mechanical design to a new level-both inside and out."

Elizabeth Doerr / LIMITED TIME

2011

BASELWORLD 2011: Predator biohazard & reb-5 tourbillion

"Rebellion Timepieces has done pretty well for a three-year-old independent brand. Its watches are consistently noteworthy for their innovation, experimentalism, cutting-edge design and flawless execution."

Suzanne Wong / Revolution

2012

HOT PURSUIT

"Rebellion is on the prowl with its Predator collection."

World Watches

2013

MUSCULE MAN / GOTHAM

"When it comes to generating and capturing massive amounts of mechanical power, the T-1000 Gotham, the latest creation from Rebellion Timepieces, muscles its way to the leading edge with its unique, hidden winding lever and its amazing 1,000-hour power reserve."

watch journal

2014

TERMINAL VELOCITY

"The latest addition to the stable of new independent watchmakers is the Rebellion timepieces. The bold name says it all about the brand's philosophy. It is out to tear up the rule book and do it its own way. "

Leong Wong / Prestige

2015

Exceptional Watches and Jewelry

"Power, endurance, rigidity, reliability and performance : Rebellion Timepieces were born on racetracks. Who else offers a 1,000-hour power reserve?"

GREAT MAGAZINE OF TIMEPIECES I 2015 SPECIAL ISSUE

2016

Endurance and sophistication: the most amazing sapphire case by Rebellion

"There are some crazy challenges that go further than the diaphanous magic of sapphire. It took 99 working days to make the modular sapphire case of the 540 Magnum Tourbillon – the first of its kind."

JOEL GRANDJEAN / watchonista

2017

Weapon Of The Rebellion? Nope: The Rebellion Weap-One Flying Tourbillon (With A Twist)

"At Baselworld 2017, independent brand Rebellion launched a timepiece that is in no doubt a weapon against boredom, sadness, and non-awesomeness: the appropriately named Weap-One. I absolutely love the Weap-One's mechanical magnitude …"

Joshua Munchow / QUILL & PAD

2018

BASELWORLD 2018: FUTURISTIC NOVELTIES FROM REBELLION TIMEPIECES

"Wristwatches that defy traditional time-telling language and function."

David Graver / COOL HUNTING

2019

Technicolor Racing

"In light of this approach and the love that the people behind Rebellion harbor for racing, the brand unveiled a special RE-VOLT limited edition watch created in collaboration with RocketByz, a colorful design concept and studio created by independent artist Tomyboy, to celebrate the Rebellion Racing team competing in the legendary 24 Hours of Le Mans this summer. "

Joy Corthésy / gmt

2020

WATCHES AND WONDERS 2020

"The brand continues its quest for performance and takes us off the beaten track with a surprising evolution of the Weap-One unveiled in 2017."

WORLD TEMPUS
Rebellion Timepieces
Latest Creations
DISCOVER
CHANGE IN TOP MANAGEMENT

Lonay, Switzerland, 22 th March 2023 – Rebellion Timepieces announced that Calim Bouhadra left his position as CEO earlier this week. Company founder and owner Alexandre Pesci decided to be more actively involved in Rebellion operations and is henceforth back at the helm of the company. "We are keen to continue developing Rebellion business by […]

Ronaldinho becomes Rebellion ambassador!

While the 2022 World Cup is holding the whole world in suspense, the Swiss watch brand Rebellion Timepieces announces the arrival of a new ambassador of choice: the footballer Ronaldinho! What other footballer better embodies the passion for competition, the creative spirit, the resilience than Ronaldinho? A huge technician, his skill and speed on the […]

No compromises: Rebellion Timepieces joins Alfa Romeo F1 Team ORLEN

Hinwil, 17 February 2022 – Alfa Romeo F1 Team ORLEN's quest for performance will be aided by its new partnership with Rebellion Timepieces. The Swiss luxury watch brand, with its bold designs and no-compromises approach to quality, is no stranger to racing, with motorsport being at the heart of its mission – an integral part […]
Rebellion Timepieces
LATEST NEWS
DISCOVER